We're proud to be featured in these media outlets
We're continuously featured on the news and in other media outlets for our knowledge and experience in the industry.
Fox 2 Interview - National 401K Day!
Given the volatility of the market today, education about retirement savings and securing your future is more important than ever before. Kyle Whipple joined FOX 2 Detroit on National 401(k) Day to offer advice and insight on everything viewers need to know about planning for retirement, especially during times of high inflation.
Channel 7 Interview - Interest Rates and your Lump-Sum Pension
Are you considering retiring within the next year? Interest rates will impact your lump-sum pension in a massive way if you don't apply for retirement by October 2022.
Mike Windle, Custom Wealth Solutions CEO, spoke on WXYZ Detroit this morning to share key information everyone should know about rising interest rates impacting pensions in 2023. See the full interview below for more information.
The Sunday Edition - Current State of Inflation in our Country
With the current state of inflation and additional factors, such as rising gas prices and food shortages, consumers across the nation are feeling the pinch. 
Custom Wealth Solutions Partner and Advisor Kyle Whipple joined Alisa Zee on "The Sunday Edition" to answer the questions at the top of everyone's minds and offer advice on addressing inflation this summer and beyond.
Channel 7 Interview - Tips for Surviving Inflation
"People need to have a plan moving forward so that if prices continue to rise, they don't find themselves stuck month in and month out."
Custom Wealth Solutions Partner and Advisor Kyle Whipple joined WXYZ Detroit this morning to discuss the current state of inflation and shared key tips on how to save up during a time where costs are at all-time highs.
Channel 2 Interview - Last minute tax filing tips
Kyle Whipple, Custom Wealth Solutions Partner and Financial Advisor, joined Fox 2 Detroit last week to share last-minute tax filing tips ahead of the April 18 deadline. Kyle shared key insights into what to look for when choosing a tax representative, forms to keep an eye out for and more.
Channel 7 Interview - Budget Advice for the Record High Gas Prices
President Biden recently announced a ban on Russian oil that has sent gas prices soaring to record highs. Custom Wealth Solutions CEO Mike Windle was featured on WXYZ to offer helpful advice on budgeting given new expenses. Mike also shared how consumers can account for this unfortunate development so it doesn't have to be a serious hardship.
Channel 7 Interview - Tax Preparation tips, new changes, local deadlines and more.
Custom Wealth Solutions' Kyle Whipple joined WXYX Channel 7 Action News this week to discuss tax preparation tips and advice, new changes to be aware of this year, important federal, state and local deadlines and more! Check out the full WXYZ interview below. 
Channel 7 Interview - Now may be the time to Reconsider your Financial Future
Kyle Whipple, Custom Wealth Solutions partner and advisor, joined WXYZ Detroit to share why now may be the time to reconsider your financial future. In the segment, Kyle discussed financial and tax season tips and updates everyone should keep in mind in 2022. 
WWJ Radio: Saving for Retirement
"One of the huge benefits of a 401k is that most times employers are going to match what you put in, to some degree – that is free money to you. But if you leave your job before you get vested in that, you are leaving money on the table." 
 Custom Wealth Solutions CEO Mike Windle, aka The Retirement Blueprint Guy, shares with WWJ Radio the impact of "The Great Resignation" on retirement planning and what every employee should be doing now to prepare for their future success. 
Channel 7 Interview - Financial Tips to Veterans
WKZO Radio: Veterans, the Pandemic and their Finances
Kyle Whipple talks to WKZO radio about veterans, the Pandemic and how it is effecting thier finances.
Sunday Edition: Student Budgeting
As college students (and their parents) move from one phase in their lives to another, financial information and expertise becomes more important than ever. Our CEO Mike Windle was asked to provide his insight to "Sunday Edition," a syndicated radio show accross Metro Detroit.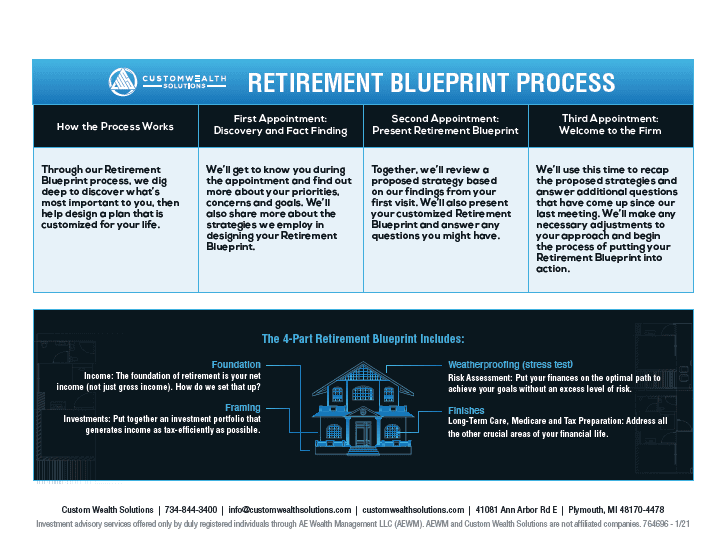 Let's Design Your Retirement Blueprint
Our process helps you build your financial strategy from the ground up. Download this flyer to see how it works.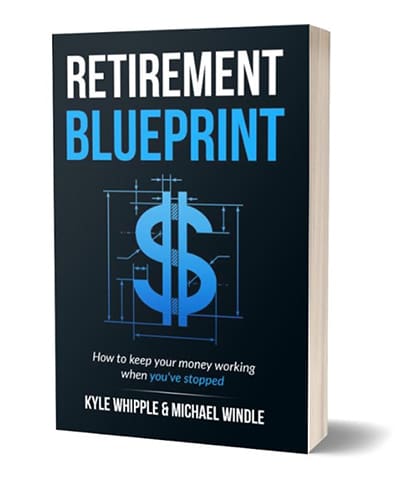 "Retirement Blueprint: How To Keep Your Money Working When You've Stopped"
By Kyle Whipple and Michael Windle
Have you dreamed about what you want to do in retirement? Are you on the right path for retirement? Do you know what you want or need your money to do for you? How will you generate income in retirement? What is your plan to ensure you have a successful retirement? In "Retirement Blueprint," Kyle and Mike answer these questions and give you the foundation of knowledge you need to have the freedom to enjoy your life while showing you how to keep your money working.
In an ever-changing world of tax laws, politics, volatile markets and economic uncertainty, it is vital to have a blueprint to follow and a plan to guide you into your successful retirement. Mike and Kyle wrote "Retirement Blueprint" to provide this information so you don't have to wonder and hope that you will be successful — but instead can KNOW that you are headed toward the retirement of your dreams.

As heard on WAAM Talk 1600 and The Patriot FM 101.5 & AM 1400.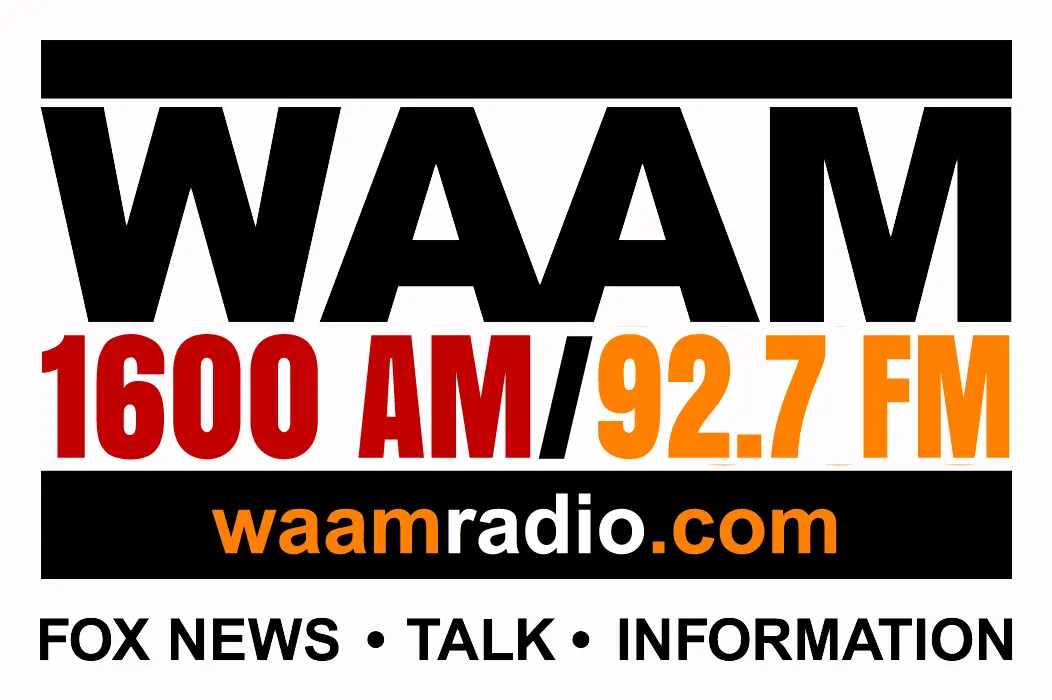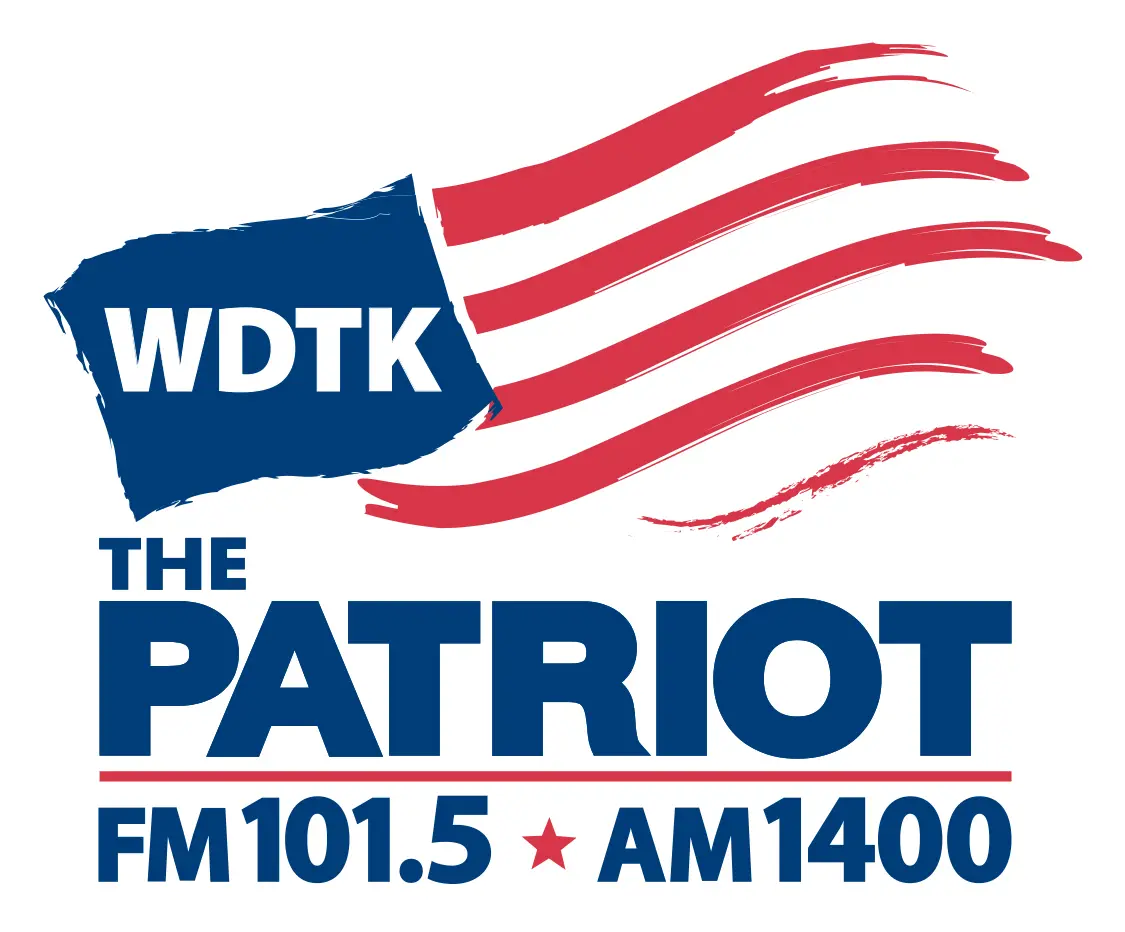 Schedule a meeting with a member of our team to create your financial strategy today.
Or give us a call at 734.844.3400.